PLS Vertical shaFT IMPACT CRUSHER
Excellent Size Reduction & Product Shaping
The Trimax PLS Vertical Shaft Impact Crusher incorporates the efficient rock-on-rock crushing principle into its design. This unique rock-on-rock crushing method comes with several major advantages, especially constant product gradation and excellent product shape. 
Fundamentals of Rock-on-Rock Crushing

The main material feed is introduced into the rotor and center of the crushing chamber, where it is accelerated by the fast rotational speed of the rotor.
At the same moment, additional material is cascaded into the side of the crushing chamber, bypassing the rotor, creating a secondary cascading flow. The result is a supercharged vortex of material particles impacting the cascading feed.
This rock-on-rock crushing action produces the best shaped cubical product at relatively low wear cost.
Flow of central feed material, ratio of secondary cascade feed and rotor speed can all be controlled, enabling maximum flexibility.
MODEL

MAX FEED MM

ROTOR SPEED RPM

MOTOR KW (HP)

CAPACITY TPH
OPTIONAL AUTOMATED CONTROL SYSTEM
This optional feature is available to enhance the machinery reliability and ease maintenance of your Trimax PLS Vertical Shaft Impact Crusher.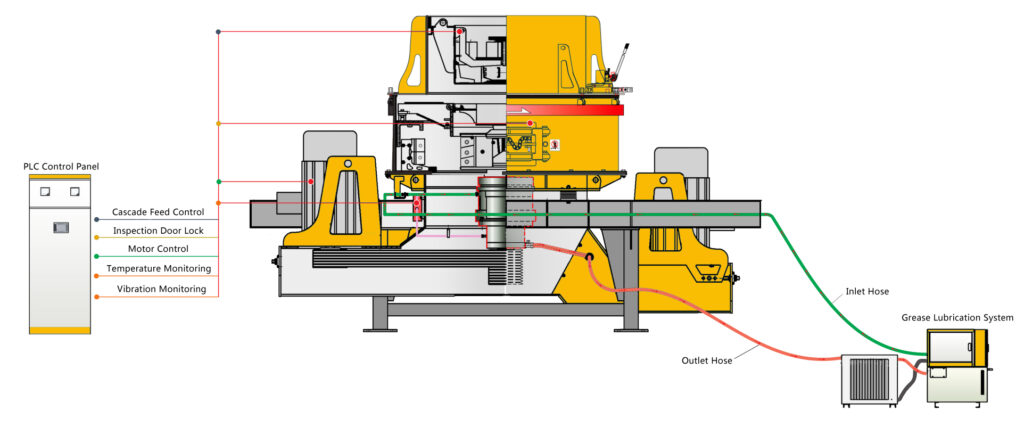 Trimax Automated Control System
Automated Real-Time Monitoring
The Trimax Automated Control System (ACS) controls the cascade feed ratio, locks the service door, controls the shaft rpm speed, monitors the bearings' temperatures and vibration levels. An alarm will be raised if any faults are detected. In severe cases, an auto-stop function will be activated in order to protect the crusher. 
If you think that the Trimax PLS Vertical Shaft Impact Crusher might be suitable for your crushing operation, drop us a line.